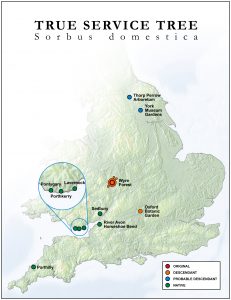 The distribution of the small populations of recently identified trees would seem to indicate that the True Service Tree in Britain is at the limit of its range. All these trees grow, in often stunted forms, in rough ground on relatively steep, eroding slopes where it seems they can compete most successfully.
The map shows the currently known locations of the trees:
the original: now occupied by a descendant;
the known descendants;
probable descendants; and
recently discovered and scientifically identified as native.